87 88 89
Photos taken at the Opening of the Wildlife Garden, VIP Lounge and Classroom Extension, Terrington St Clement Primary School, Kings Lynn, Norfolk 23rd April 2009
---
86 Joining Mariella Frostrup on the sofa was Gervase Phinn with his new book, Twinkle, Twinkle Little Stars.
"If you liked Gervase Phinn's Twinkle, Twinkle Little Stars and are after further heart-warming tales with a touch of the rural idyll, here are a couple more you might like:
James Herriot: All Creatures Great and Small
Gervase Phinn is frequently labelled the' James Herriot of schools' so what better book to get tucked into than an actual Herriot! All Creatures Great and Small contains the first two much-loved and hilarious autobiographical tales of the Yorkshire vet as he goes from adventure to misadventure. The books are laced with acute observations of both the animals he encounters and the local characters. "
click here to go to the Sky Book Show webpage
---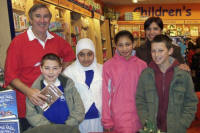 84 & 85 Book Signing at Borders Bookshop, Birstall, Leeds
---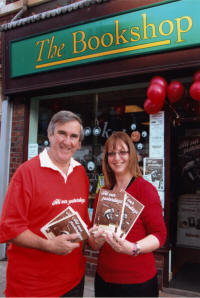 83.Gervase Phinn with Kerry Smith of the Goole Bookshop
© David Robinson
---
82 Book Launch for 'All our Yesterdays' at Borders Book Shop, York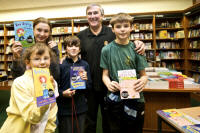 80 & 81 Book signing in Waterstone's, Doncaster 2008
see more photos >>
---
79 Gervase cuts the ribbon to officially open the wildlife garden at Long Toft Primary School, Stainforth, Doncaster. see more photos >>
78 Gervase Phinn looks at an old exercise book belonging to ex-pupil Susan Kingham, looking on are Stainforth Mayor John Thompson and the Lady Mayoress, Carmen Thompson. see more photos >>
---
77 With Nigel Rees, Pam Ayres, Sue Limb and Sir Trevor McDonald at the BBC Radio Theatre for the recording of the Radio 4 programme "Quote-Unquote."
---
76 At the 'Oldie Literary Luncheon' with fellow speakers Barry Cryer and Richard Ingrams
---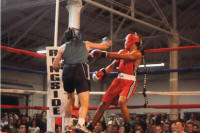 75 Son Richard delivers the knockout blow in the Bermuda Amateur Boxing Championship
---
74 With the legendary Dolly Parton and lawyer, author and raconteur Steve Smith at the launch of the 'Imagination Library' at Magna, December 2007
---
73 With the pupils of St Nicholas Primary School in Hull at the launch of their book on William Wilberforce
---
72 With the Earl and Countess of Scarbrough at the Safe @ Last Charity Event at Sheffield Crucible Theatre: 'An Evening with Gervase Phinn and Friends'
---
71 Lunch with the pupils at Carlton-in-Snaith Primary School
What a way to earn a crust!
---
70 At the unveiling of the Janet Shaw ceramic mural at Serlby Park School, Nottinghamshire