On Saturday June 26th Gervase Phinn was signing his latest book "The Heart of the Dales" for his many fans. He exchanged chat and stories with customers. photos by Richard Benson © 2008
Gervase with Adam, Beth, Naomi and Jack and Mum Angela. More photos on the photo album page >>
Gervase signing a book for the children at Manor Lodge School, Sheffield. "Never lose sight of your dreams" writes Gervase.
Gervase with a young fan, Caitlyn (spelled with a 'y')
Gervase with Bethany and family, also Paul Horsman, Waterstone's employee.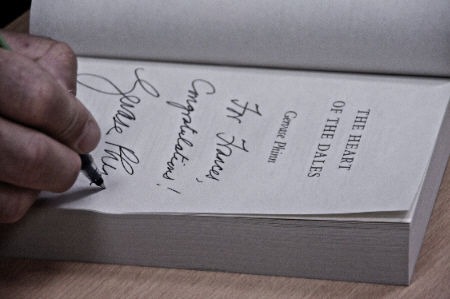 Paul Horsman, was showing Gervase a book containing one of Paul's short stories.
Gervase with a copy of the book 'Dads' - a collection of short stories The phenomenal list of high-profile contributors includes Sir Richard Branson, Bill Bryson, Andrew Collins, Jilly Cooper, Richard Curtis, Sir Alex Ferguson, Anna Ford, Joanne Harris, Charlie Higson, Kathy Lette, Davina McCall, Fiona Millar, David Miliband, Anthony Minghella, John O'Farrell, Gervase Phinn, David Puttnam, Ian Rankin, David Tennant, Alan Titchmarsh and Fay Weldon. Hilarious and thought-provoking in turns, this celebration of fatherhood - edited by Gordon Brown's wife, Sarah Brown, together with Gil McNeil - explores what it is to be a dad.
ISBN: 9780091922726