Welcome to the photo album of Gervase Phinn
Most recent photos at the top - click on the thumbnails to enlarge
---
111. Bernie Clifton (presenter), Stephanie King (entrepreneur) and Gervase on Radio Sheffield's Live-ish Saturday Morning Program.
110. As Chancellor of the Children's University with Kian,
one of the young graduates
contact details for Doncaster Children's University www.don.ac.uk/dcu
109 The New Children's Chancellor for Doncaster University Centre in his study.
---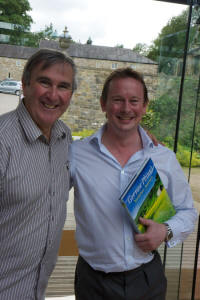 108 book signing at book launch for "Yorkshire Journey" with Matthew Townsend CEO Country Publications
see more photos >>
---
107 With David Parker and John Prescott, prior to our presentations, at the Scottish Borders Literary Festival in Melrose.
106 Live on stage at Rotherham Civic Theatre 2010 - more photos >>
105 With the Lord Mayor of Leeds, Councillor Judith Elliot and her Consort at the Leeds Civic Hall, following my talk in support of her charities.
---
104 & 103 With Rory Bremner following my appearance on his Election Battlebus Show.
---
102 Doncaster Book Awards March 2010
more book award photos >>
---
101 With the Urban Gospel Choir on Christmas Day morning at the BBC for 'Good Morning Sunday' with Aled Jones.
---
100 With my wife Christine and fellow writers Lucinda Dickens (Charles Dickens' great, great, great granddaughter) and Kirtsen Bradbury on the 'Artemis Literary Cruise.'
---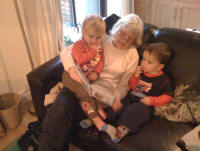 99 Christine with our two grandchildren Megan Rose and Harry John Gervase.
---
96, 97 & 98 Photos - Civic Reception for the Inaguration of Leeds Trinity University College and my conferment of Honorary Life Fellow of the University College which took place at the Civic Hall Leeds
In the group from left to right:

Gervase Phinn, Chairman of the College Governors; the Lord Mayor of Leeds; the Rt. Rev Arthur Roche, Bishop of Leeds; the Principal of the College, Professor Freda Bridge and John Battle MP.

---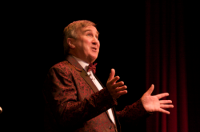 93 94 95 Theatre Tour at Doncaster Civic Theatre May 2009
90 91 92
An Evening with Gervase Phinn and Friends celebrated the achievements of both teachers and children and featured young musicians and instrumentalists of the Minster School Junior Choir. Raising money for conservation of the Minster.
photos taken at York Minster and Doncaster Civic Theatre by Steve Benson
---
Don't forget to look in my archives for photos - follow the links below