"We've been to the theatre to see the Sugar Lump Fairy."
"Mum's car broke down and she had to call the IRA to fix it."
"Grandma, I'll be glad when I'm old and have hairs on my face."
"I'm not talking too quickly - it's you who are listening too slowly."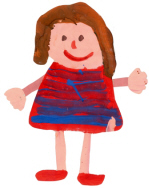 Children are delightful and appealing 'little treasures', but because they are also innately honest and direct, they can also make you smile or cringe with embarrassment with the things they say or ask. "Little Treasures" is bestselling author Gervase Phinn's third collection of children's favourite sayings, amusing remarks or impossible-to-answer questions.
Hardcover: 96 pages
Publisher: Dalesman Publishing Co Ltd
(September 2007)
Language English
ISBN-10: 1855682443
To order a copy, telephone (+44) 01756 701033, visit the online bookstore at www.dalesman.co.uk
or use the order form
Buy Little Box Set now - click here
SPECIAL OFFER
Buy any Gervase Phinn book and CD and get a second book FREE (valid to 31.12.07)
Little Gems and Little Angels on audio CD, read by the author, £11.99
Little Treasures book launch at Little Bettys, York, 25th October 2007
Gervase Phinn launching Little Treasures.
Little Bettys, York, 25th October 2007
Book cover illustrations for 'Little Angels' 'Little Gems' & 'Little Treasures' by Christine Jopling
visit Christine Jopling's website >>