The Best Days of our Lives:
1. Schooldays - Gervase Phinn
Ah, schooldays. The teachers we loved and loathed, the summer holidays that seemed to last forever. Itchy woollen socks, scuffed knees, conker battles lost and won, and the days when a carefully placed school jumper could easily double as a goalpost at playtime. For many of us, these were the best days of our lives.
Compiled by bestselling author and former school inspector Gervase Phinn, this wonderful collection of childhood memories is an irresistibly nostalgic medley of the triumphs, traumas, joys and sorrows that made our schooldays impossible to forget.
Published 1st October 2015
£7.99
128 pages
148mm x 148mm
ISBN: 978-1-85568-347-1
2. Grandchildren - Gervase Phinn

"Grandma, your face needs ironing."
"Grandpa, who'll fetch the chips when you're dead?"
Grandkids – don't you just love them? They can make you smile with joy or cringe with embarrassment; make you feel twenty years younger, or like you date back to the Ice Age.
And who better to share his thoughts and feelings about these lights of our lives than Gervase Phinn: bestselling author, former school inspector and, most importantly, grandpa? This uplifting compilation of reminiscences, jokes and anecdotes will have you laughing out loud at the entertaining things our little treasures do and say. Hardback.
Published 1st October 2016 £7.99
128 pages
148mm x 148mm
ISBN: 978-1-85568-355-6
3. Happy Days - Gervase Phinn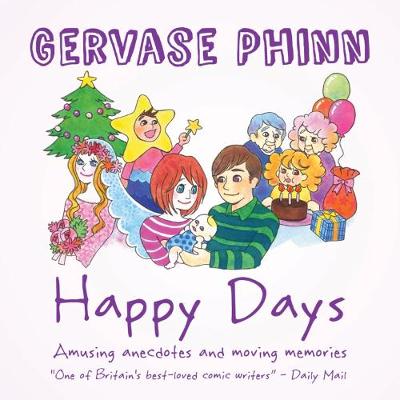 The happiest days make memories to last a lifetime. There are so many occasions when one is filled with a feeling of great elation: the birth of a child, a christening or wedding, a childhood holiday, a celebratory birthday or a cosy family Christmas… these are the magical times that stay with us all our lives.
Happy Days is bestselling author Gervase Phinn's personal collection of amusing anecdotes and moving memories, plus the thoughts and feelings of others.
This is a book to get you reminiscing about happy days past and looking forward to those yet to come. Hardback.
"Funny, touching and entertaining" Daily Express
"He tells a cracking good tale!" The Times
"A born raconteur" Guardian
"Laugh-out-loud funny" Woman's Weekly
Published 1 October 2017
£7.99 hbk
160 pages 140mm x 140mm
ISBN: 978-1-85568-362-4
Trade sales enquiries:

01756 693484 or 701033
sales@dalesman.co.uk
www.dalesman.co.uk
For more information contact:
Bob Hughes, Circulation &
Book Sales Manager
07788 145294 (mobile)
bob@dalesman.co.uk
For press information contact:
Linda McFadzean
01756 693475
linda@dalesman.co.uk