Gervase Phinn is available for Public Speaking Engagements
Gervase Phinn is available for Public Speaking engagements and will hold any audience entranced and delighted with tales and stories from schools, especially those in the beautiful Yorkshire Dales where he was an inspector.
Dubbed "the James Herriot of schools"
Gervase Phinn shares his hilarious tales of life as a schools inspector in the Yorkshire Dales which will have you in stitches.
Professor Gervase Phinn taught in a range of schools for fourteen years before becoming an education adviser and school inspector.
He is now a freelance lecturer, broadcaster and writer, a consultant for the Open University, Honorary Fellow of St. John's College, York and the Fellow and Visiting Professor of Education at The University of Teesside.
He has published many articles, chapters and books and edited a wide range of poetry and short story collections. His academic texts include: Young Readers and their Books, published by David Fulton, Touches of Beauty: Poetry in the Primary School and Reading Matters. Additionally he has published collections of his own plays, poems, picture books and short stories, including his anthologies of verse : Classroom Creatures, It Takes One to Know One, The Day Our Teacher Went Batty and Family Phantoms.
His books of stories for children, What's the Matter, Royston Knapper? and Royston Knapper : The Return of the Rogue were published by Child's Play and became best-sellers. His picture book Our Cat Cuddles is found in many a school library.
Gervase Phinn is probably best known for his best-selling autobiographical novels: The Other Side of the Dale, Over Hill and Dale and Head Over Heels in the Dales, published by Michael Joseph, which he read on the Radio 4 programme 'Book of the Week.' Head Over Heels in the Dales was a number one best-seller.
The fourth book in the series, Up and Down in the Dales, was published in March 2004.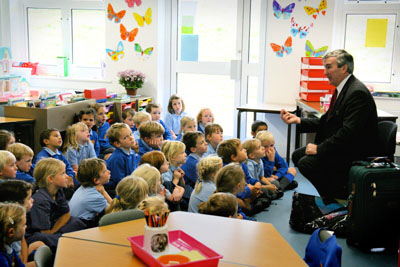 Television and radio appearances include: Esther (BBC 1), Midweek (Radio 4), You and Yours (Radio 4), Open House with Gloria Hunniford (ITV), North East Tonight, (Tyne Tees Television), Today (Radio 4), Calendar (Yorkshire Television), Breakfast Television (BBC1), The BBC World Service, The Heaven and Earth Show (BBC 2), The Des O'Connor Show (LWT), Quote-Unquote (Radio 4), Look North (BBC 1), The Big Toe Radio Show (Digital Radio), Just One Chance (BBC 2), Book at Bedtime (Radio 4) and Book of the Week (Radio 4 ).
In 2004 Gervase Phinn was honoured to receive 'The Speaker of the Year Award' from the Association of After Dinner Speakers. A Fellow of the Royal Society of Arts, he has a particular interest in children's reading and is widely known as a lively and entertaining speaker.
Testimonials:
"Gervase Phinn has a unique understanding and love of children, and a wonderful gift for storytelling … a real star" (Esther Rantzen)
Thank you so much for being with us at the Golden Wedding Service on Sunday. Your address was all that one might have wished for – thought-provoking, pertinent, very funny and very moving.
The Very Reverend, the Dean of Ripon
Thank you for a marvellously entertaining evening on Wednesday. A university colleague, writing after the event, said: 'What a way to celebrate ten tears.'
Ian Butchart, Director of Library & Information Services at the University of Teesside
Thank you from everyone at the Dalesman for providing such a fantastic support for the Yorkshire Rural Awards. We have been pleased to receive much positive feedback on the evening and everyone has referred to how much they enjoyed your presentation of the awards
Robert Flanagan, Managing Director, Country Publications.
I could not start this week without writing to express my sincere gratitude to you. The feed back from colleagues following your presentation has been most affirming with many echoing their joy at the session. The presentation brought tears to the eyes, yet the subtleness provoked much thought. Your address was exemplary and addressed the key issues with humour but also most poignantly.
John Cape, Director of Schools, Diocese of Hallam Schools' Department.
"Laugh-out-loud funny" (Women's Weekly)
"A colleague once said that Gervase's enthusiasm and encouragement of teachers should be bottled … an outstanding practitioner "(Guardian Education)
"Gervase Phinn is one of the most accomplished public speakers of any kind. A natural storyteller, he combines the timing of the professional comedian with palpable warmth and the ability to deliver a message that is just more than just a series of jokes" (The Times Educational Supplement)
see more photos of the opening day at Bishop's Stortford College
"A natural storyteller, he combines the timing of the professional comedian with palpable warmth and the ability to deliver a message that is just more than a series of jokes" (The Times)
The Dales Festival of Food and Drink
"You entertained everyone brilliantly!" (The Countess of Bolton, President)
The National Association of Flower Arrangement Societies
"Your talk proved an excellent end to our Gala Sapphire Dinner - a great mixture of humour." (Barbara Harris, National First Vice Chairman)
The Council for the Care of Churches National Conference
"You caught the imagination of the brethren perfectly. The following morning the hotel was abuzz with praise of you." (The Lord Bishop of Sodor and Man)
Stockton-on-Tees Early Years Conference
"It is a great tribute to you that you are able to make such a valuable professional input at the same time as being hugely entertaining." (S T Bradford, Corporate of Director of Education, Leisure and Cultural Services)
Conwy Primary and Special Schools Head teachers' Conference
"It is clear from the comments I have received that everyone valued your presentation, your humour and 'feet on the ground' values." (R Elwyn Williams, Corporate Director of Lifelong Learning)
Nottinghamshire 'Every Child Matters' Conference
"The feedback from everyone was entirely positive, with many expressing how engaging and inspirational they found your speech." (Cath Page, Inclusion Support Adviser)
Hertfordshire Governors' Annual Conference
"Thank you for your highly entertaining and interesting closing speech. You gave us so much to think about and I know that governors valued your thoughts." (Carole Connelly, Head of School Governance)
The York Guild of Building Annual Dinner
"I would like to thank you most sincerely for your contribution to our Annual Dinner. We were well entertained and very much appreciated your professionalism and easy manner." (Edward Howland, Master of the York Guild of Building)
Annual Dinner of the Headteachers' Association of Scotland
"I write to thank you for your superb address : you certainly gave us a finale to remember." (Eileen M Davis, Conference Convener)
Essex Branch of the National Association of Headteachers
"We marvelled at the way you were able to speak, entirely without notes, and keep your audience spellbound for well over an hour." (Norman Taylor, Assistant County Secretary)
Rotary International Centennial Dinner
"What a good time we had last night! Everyone went away with a real spring in their step." (Revd. Canon Nicholas Bell)
Rotary International Annual Conference
I heard on the grapevine that you were something special to listen to but I never imagined I would be so moved by what you had to say, the manner in which you addressed us and the overall professionalism of your presentation." (Fred Pickering, Assistant Governor, District 1190)
York Headteachers' Conference
"As always you were entertaining and inspiring by turns and often both at the same time." (Patrick Scott, Director of Education and Leisure, City of York)
Lincolnshire South Federation of Women's Institutes AGM
"The day was a great success and I have heard nothing but praise from our members about your entertaining talk." (Patricia Munday, Federation Chairman)
Leeds Governors' Conference
"Fantastic, inspiring, excellent, funny, passionate, brilliant, wow!" (Barbara Walker, Senior Governor Support Officer)
The District of Bolsover Civic Dinner
"You speech was undeniably one of the best I have heard and my stomach still aches from all the laughing." (F J Fotherby, Chief Executive Officer)
The British Society of Baking Annual Dinner
"How can I possibly begin to thank you for your most fabulous presentation. Everyone was talking about what a wonderful after dinner address you gave. I am deeply indebted to you." (Jean Grieves, Conference Organiser)
South Yorkshire County Foundation Prestige Dinner
"Your speech was inspirational, moving and extremely witty." (Richard Clarke, Chief Executive)
Sefton Literacy Conference
"Words like 'inspiration' and 'motivation', mixed with phrases like 'emotional experience' come to mind. It was the best training day that I have ever experienced." (Dave Atkin, School Support Adviser)
National Operatic and Dramatic Association Conference
"You must know from the reaction you received from our capacity audience just how much your anecdotes, stories and poems were appreciated by the members. Most complained of laughing until it hurt." (Chris Ingram, Councillor, North East)
ARCO Sales Management Conference
"May I personally thank you for rounding off our conference in such a tremendous fashion. At breakfast this morning I was greeted by people who were still talking about the content and style of your address." (Bill Bramley, Sales Director)
Institution of Highways and Transportation Lunch
"Thank you for your magnificent address. Our members have besieged me with letters complimenting me on the speech." (David Hutchinson, President)
"You will, I imagine, be fairly used to plaudits following your tour de force after dinner last Thursday at our conference. I can certainly add to those accolades. You could have gone on for another hour." (Neil McIntosh, Chief Executive CfBT Education Trust)
"I could not imagine holding a conference of which you were not a part. There is always humour in your lectures but also great depth of thought as well." (Pat Langham, President of The Girls' Schools Association)
"The feedback from the evening has been very positive and complimentary with everyone I have spoken to saying how much they enjoyed your after dinner speech." (Chris Fenwich, Bench Chairman, Judiciary of England and Wales)
"Thank you so much for your excellent contribution last Tuesday. Everyone particularly appreciated your informed and entertaining comments." (Canon Dr Edmund Newell, Director, St Paul's Cathedral)